The Motor Trade Association of SA/NT is the State's peak employer organisation for the automotive retail, service and repair industry representing the interests of over 1,200 members in South Australia and the Northern Territory.
The MTA SA/NT prides itself on an organisational culture that encourages the growth and development of talented people so we can continue to provide the highest quality service to our members.
This culture is built on our shared understanding of our values below: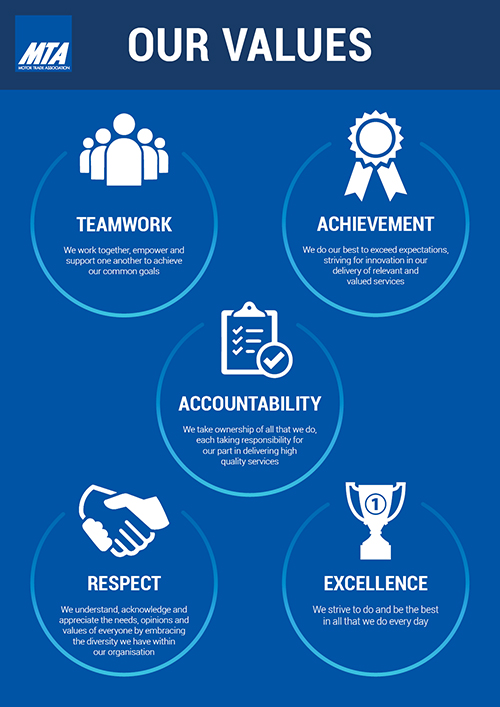 The automotive retail, service and repair industry is one of the most exciting and innovative industry sectors in the world today and the MTA SA/NT plays an active role in ensuring our members are well placed to benefit from this. Our Group Training Scheme is also the peak training and employment organisation for the automotive retail, service and repair industry, employing over 500 apprentices and trainees in South Australia.

If you are a person who shares our values and is enthusiastic about protecting and growing the automotive industry then please consider the following opportunities:
---
MEDIA AND COMMUNICATIONS ADVISOR

Would you like to develop your career as a media relations and communications professional in a thriving industry, working with a dedicated and enthusiastic team? In this role you will engage and influence diverse audiences and stakeholders through effective and tailored messaging.
As part of a small but highly specialised team, you will work with experienced, energetic and driven colleagues to deliver targeted communications and content. Your responsibilities will include media relations, corporate communications, and social media management. This position will suit a proactive, driven professional with experience in a media-facing communications profession. A background in journalism will also be looked at favourably.
WORKPLACE RELATIONS ADVISOR

Do you have experience in Industrial Relations or Human Resources or are you a law graduate looking for a challenging first step in your career? In this role, you will provide advice and guidance to thousands of MTA members across the automotive industry in all areas of Workplace and Industrial Relations.
You will have outstanding written and verbal communication skills along with an ability to quickly grasp issues and offer pragmatic advice. You will also have the ability to build rapport with a range of both internal and external stakeholders.
FIELD OFFICER
If you enjoy building relationships, primarily working 'on the road', and are exceptional at managing your work, this is the role for you. A fully maintained vehicle is supplied.
Key to the Field Officer role is the ability to communicate and relate well with young people while being responsive to the requirements of Host employers. Critically the focus is on engaging and supporting apprentices to commence and complete their apprenticeship by providing effective mentoring and pastoral care. Equally, attention to developing and maintaining hosting opportunities in safe work environments is a must.
BUSINESS TRAINEE
Our Customer Service Team within our RTO at our Royal Park site is currently seeking an individual to join their team as a Business Trainee (Certificate 111 in Business - BSB30115) for 18 months full time. The Customer Service Team is well established and is very experienced in RTO settings, which will allow for a very supportive working and learning environment for the successful Business Trainee.
Automotive Apprenticeships are available HERE.